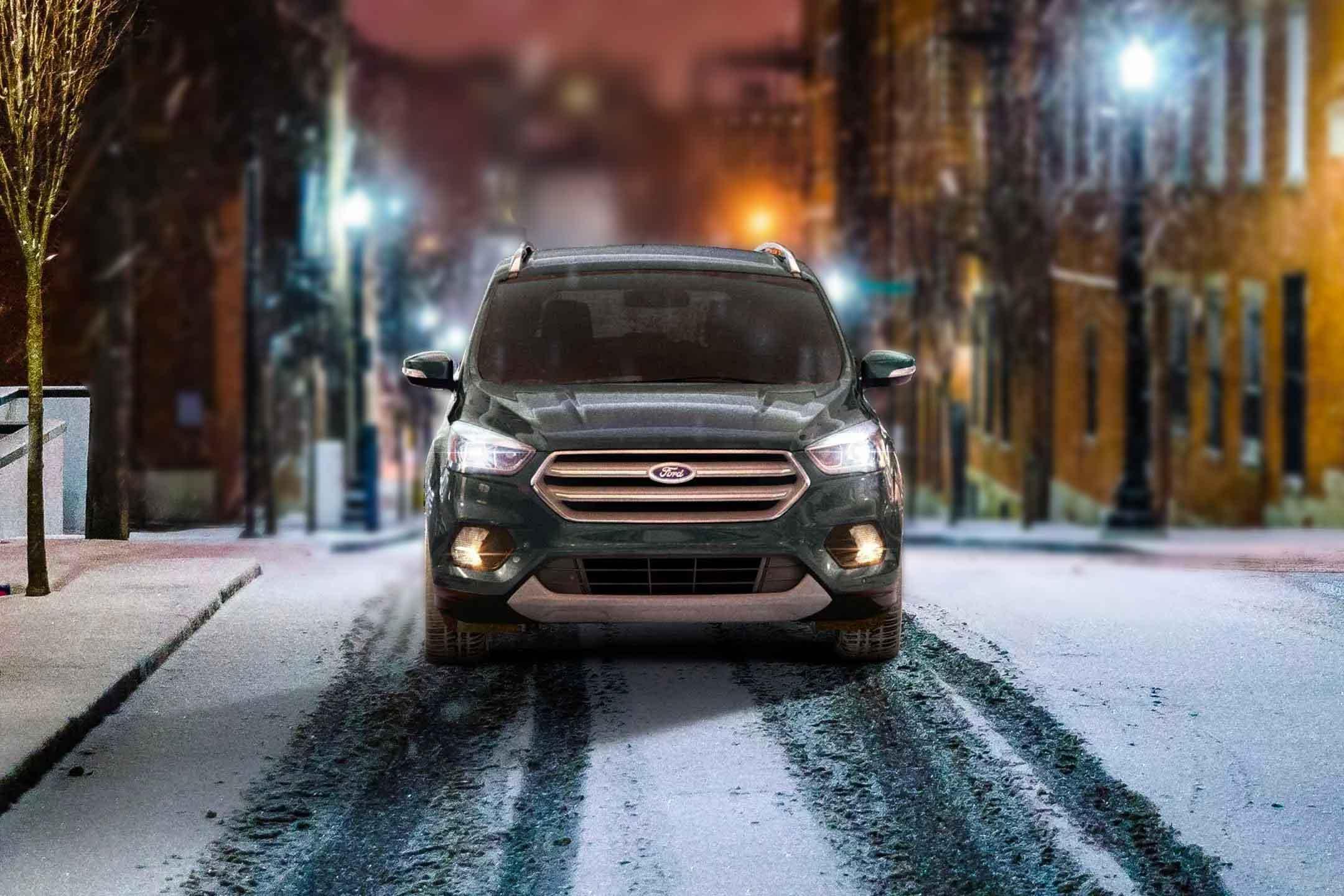 We can't deny it; winter driving is a reality!
Whether you are in St. John's or coastal Labrador, and whether you have lived in Newfoundland & Labrador your entire life or it's your first winter here, Cabot Ford Lincoln has the perfect
trucks
and
SUVs
to keep you feeling safe, prepared, and confident all season long. With Ford's available safety and technological features, you will be able to handle whatever Mother Nature blows our way.
What makes Cabot Ford Lincoln's vehicles your exceptional choice for winter driving in Newfoundland & Labrador? We're glad you asked...
Enjoy downtown St. John's in the winter

The steep slopes of downtown St. John's may scare some folks away in the winter, but it doesn't have to be that way. With the
Hill Start Assist
feature, your vehicle automatically senses when you're on a slope, and applies more pressure to your brakes. It will also give you extra time to move your foot from the brake to the gas pedal, preventing your vehicle from rolling. This feature works, even in reverse.
The Hill Start Assist feature can give you confidence driving the streets of St. John's — and anywhere else in Newfoundland & Labrador — in winter and in summer!
Detect winter hazards faster while driving in NL

Take on the worst of winter's days with added comfort and confidence! One of Ford's many available safety features includes Collision Warning with Brake Support.
This feature uses front sensors to detect slower moving traffic travelling in the same direction. If you are approaching too quickly, your vehicle will flash red lights near your windshield and sound an alarm as a warning. If you do not react, your vehicle will pre-charge your breaks to help you stop faster, when you do hit the brake pedel. This feature has three sensitivity options, with the most sensitive option detecting stationary objects.
Prevention is always the best safety tactic, so the combination of your keen focus on the road and Ford's keen focus on innovation will allow you to continue to get out and enjoy driving all year round!
Exceptional traction for winter driving in Newfoundland and Labrador
For exceptional traction for winter driving in Newfoundland and Labrador, Ford's available AdvanceTrac Electronic Stability Control (ESC) helps you maintain control in adverse driving situations, even making quick maneuvers to avoid an obstruction or potential collision.
If your vehicle starts to lose its grip because of road conditions, Ford's AdvanceTrac traction control will keep your wheels from spinning, while the ESC helps prevent your vehicle from sliding sideways or skating.
The best part? You don't have to do a thing! The vehicle utilizes information from several sensors such as your steering wheel angle, acceleration rate, and so on. AdvanceTrac's selective braking will help keep you on the road.
AdvanceTrac is always running, unless you manually turn it off. It can be good to temporarily turn off this feature if you are stuck in snow or mud, to let your wheels spin and give your vehicle full power to get out of the sticky situation.
Ford technology makes it easier to get your winter drive started
The free FordPass smartphone app provides access to more features than ever before. With the press of a button, remote start your vehicle's engine and climate control system from the warmth of indoors. Unlock and lock doors with one touch. Instantly access your fuel level, oil life, and other important vehicle information.
The app also helps you locate your vehicle in a busy parking lot to avoid spending time wandering through the parking aisles, and provide notifications to your phone when it's time for an important maintenance check-up.
The FordPass smartphone app's options are amazingly helpful and, quite literally, at your fingertips.

Top vehicle features for
winter driving in
NL
Have you ever turned onto a street, only to feel your tire lose its grip due to ice on the road?
There are a lot of twists and turns while driving vehicles in St. John's and everywhere else in Newfoundland & Labrador, but Ford's available
Torque Vectoring Control
uses your vehicle's braking system to adjust the front tire speed as you turn. If the inside wheel starts to slip, the system will focus your engine's power toward the outside of the wheel, where your tire has more grip.
In snow, rain, or ice, you have better control of your vehicle.

Snow and ice is Paradise, when you drive a vehicle from Cabot Ford Lincoln in the winter!
Ford's available Terrain Management System (TMS) allows you to adjust driving dynamics, to best match the road conditions in which you're driving.
Snow, ice, mud, grass, or rain, your tires will adjust their stability to best match the ground beneath you. Ask the Cabot Ford Lincoln sales team about the possibilities of TMS today.

Ford safety features provide confidence to nervous winter drivers in St. John's
At certain points during the winter, we run out of places to put all of the snow. Have you ever tried to squeeze your vehicle into the last parking space, in the back corner of a parking lot? Or, have you ever lost a portion of your drive way because you couldn't throw the snow any higher or further? We've all been there.
Ford's available Adaptive Steering enhances how your vehicle responds to your steering wheel input, depending on the speed of the vehicle. At low speeds, the system allows the front wheels to turn with fewer steering wheel rotations.
This is especially helpful when maneuvering into particularly tight spaces. Pair that with Ford's available back-up camera options and you will feel confident with your parking abilities, in the messiest of winter road conditions.
These kinds of winter safety features mean winter driving has never been easier in NL. Whether you are driving in downtown St. John's or across the Avalon, Ford SUVs and vehicles are built for Newfoundland and Labrador's unpredictable weather patterns!
Cabot Ford Lincoln
Authorized Ford dealership in St. John's NL
177 Kenmount Road
(709) 722-6600