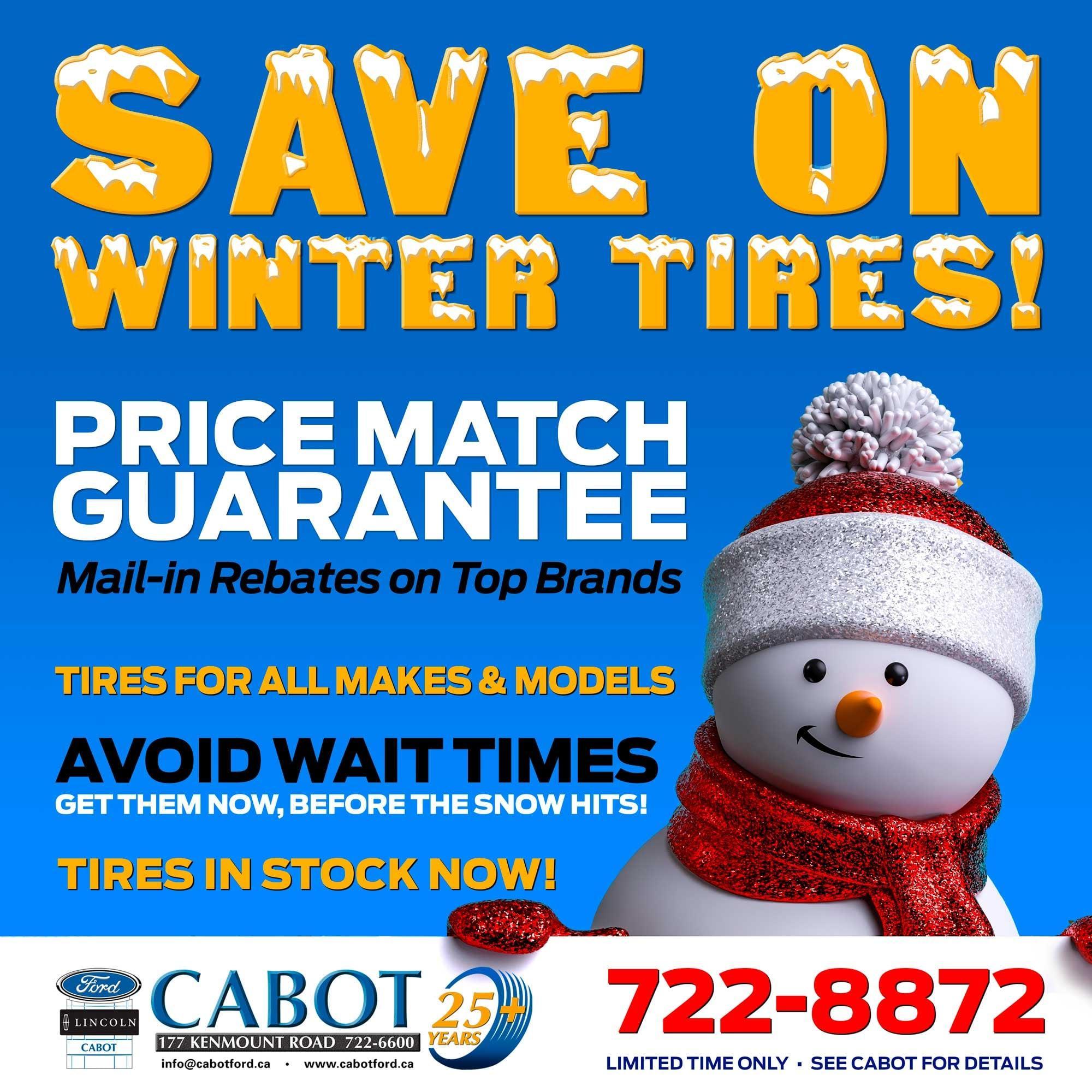 Make Cabot Your Stop for Winter Tire Sales in St. John's
We have snow tires in every make and model. Whether you are a first-time winter driver or a seasoned pro, to grip those icy Newfoundland roads, you need the safest winter tires at the best deals. Cabot's got 'em both!
Our Expert Tire Team is ready to help get your vehicle equipped for the season. Cabot's Price Match means you can get your best snow tire deals right here. If you can find a current better-advertised price for the same tire in our market area, we will match it. It's that easy!
Snow Tires for St. John's Winters!
No matter what make or model you drive, you need the best tire traction to navigate winter in Newfoundland and Labrador. The roads are narrower, and the downtown St. John's hills are slipperier. Cabot Ford Lincoln has the best prices on the top brand name tires to let you embrace winter driving with ease and peace of mind.
We stock all of the top-selling tire brands. Choose from Goodyear, Michelin, BFGoodrich, Uniroyal, Toyo, Firestone, Bridgestone, General, Continental, Pirelli, Hankook, and Yokohama. That's a dozen options to consider when selecting the right winter tires for your truck or SUV.
Newfoundland and Labrador winters may be unpredictable, but our winter tire selection is up to the challenge!
To find the right tires for your truck, car, or SUV, no matter what make or model you may drive, call for a quote!











Winter driving in St. John's can be scary with the icy hills and slopes. But Ford vehicles are built with your safety in mind. With features like Collision Warning with Brake Support, and AdvanceTrac Electronic Stability Control (ESC), you can be confident and in control while behind the wheel during any season.
We've put together some helpful winter driving tips and safety features to get you through whatever weather may blow our way this year. Check 'em out to help keep you and your family safe this winter!