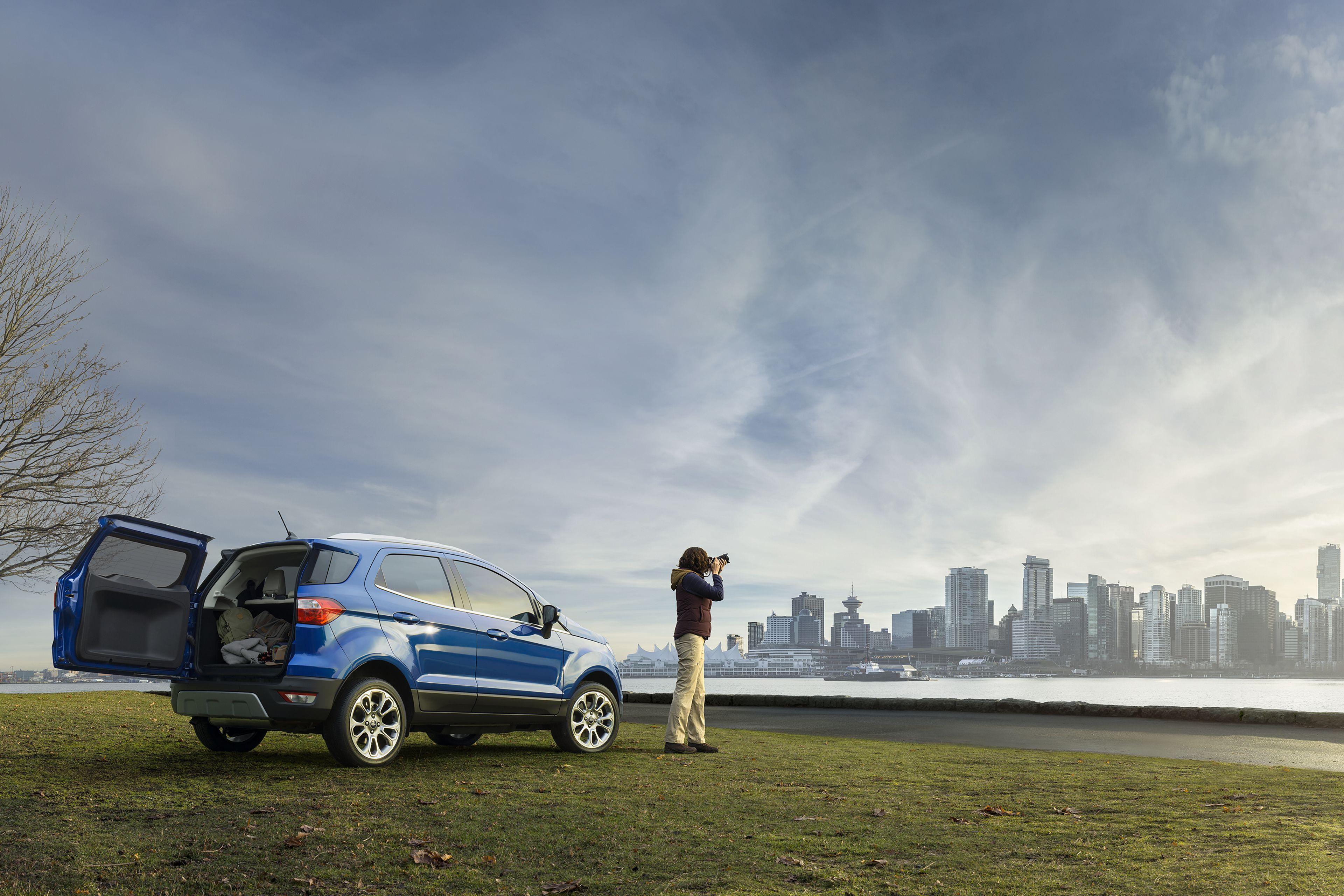 As a
new SUV in St. John's
, the new
Ford EcoSport
is certainly turning heads! With top-of-the-line technology, impressive safety features and sleek style, how could it
not
? With several models to choose from, the options are endless when it comes to the EcoSport.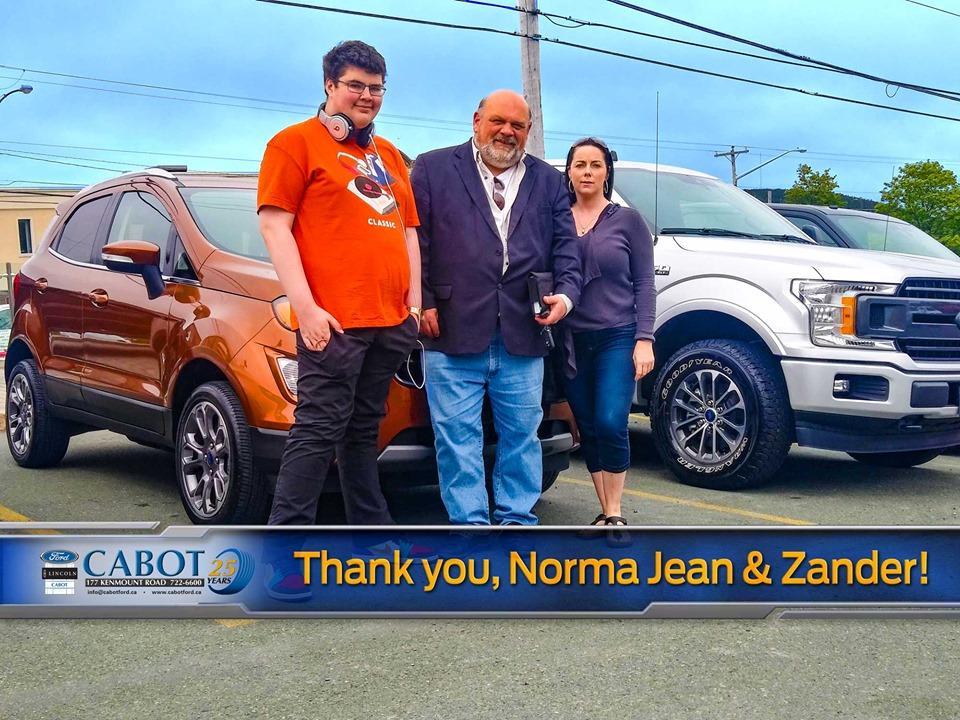 Have you seen the new EcoSport SUV around St. John's?
Norma Jean Hall was looking for a great new SUV, so she and Zander came to Cabot Ford Lincoln. Excellent choice! Our sales pro Scott Rogers listened carefully to what they wanted, made it easy to consider all the options and possibilities, and helped them settle on this stunning new 2019 EcoSport Titanium! It's an amazing new SUV for our great new customers.
Thank you for joining the growing Cabot family, Norma Jean and Zander. We love having you with us!
A new generation enters into the Cabot family!
We have so many amazing people in the Cabot family. Some just stand out though for their storybook hearts and the happiness they spread. We love how long-time Cabot customers Mike and Linda Butler make kindness a way of life, and were thrilled to welcome them back recently when they purchased the first 2018 Ford EcoSport that Cabot ever sold, for their granddaughter Julie.
Thank you, Mike, Linda, and Julie. You make the Cabot family — and this whole world –— a brighter and better place to be!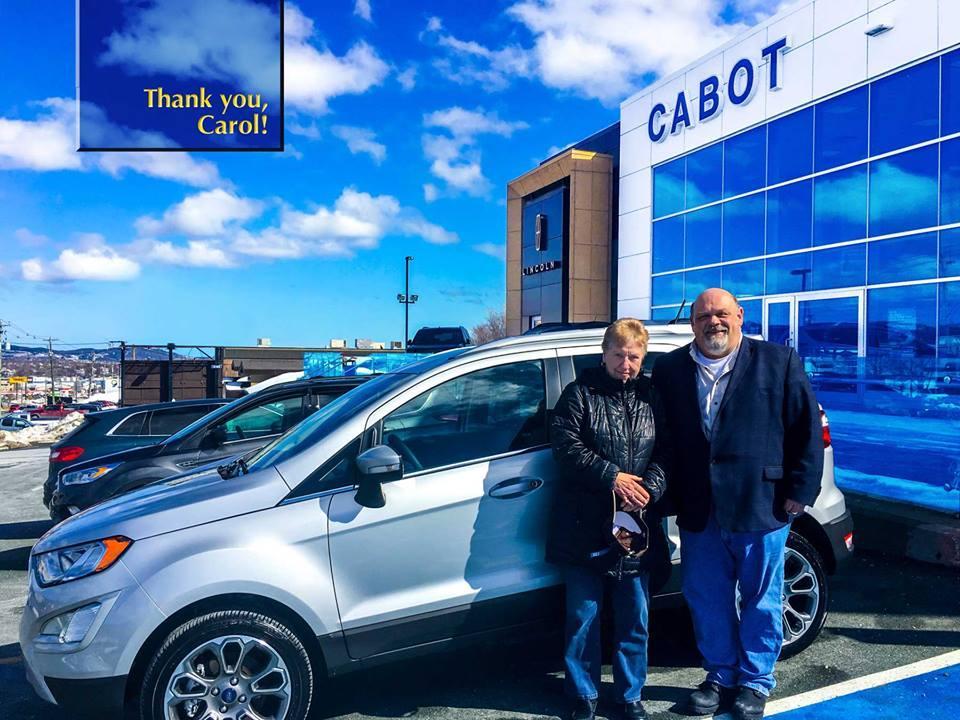 Meet one of the first people to own an EcoSport in Canada!
Congrats to Carol McDonald, one of the first people in Canada to the all-new 2018 Ford EcoSport! Carol is a return customer to Cabot, but perhaps even more noteworthy, is sales pro Scott's mother in law.
We were hoping to get some good stories about Scott, but Carol has nothing but good things to say about the man, which is pretty much how everything else feels about him too. So thank you, Carol, for being in the Cabot family, quite literally. We're happy to have you with us, whether you share a few secrets or not!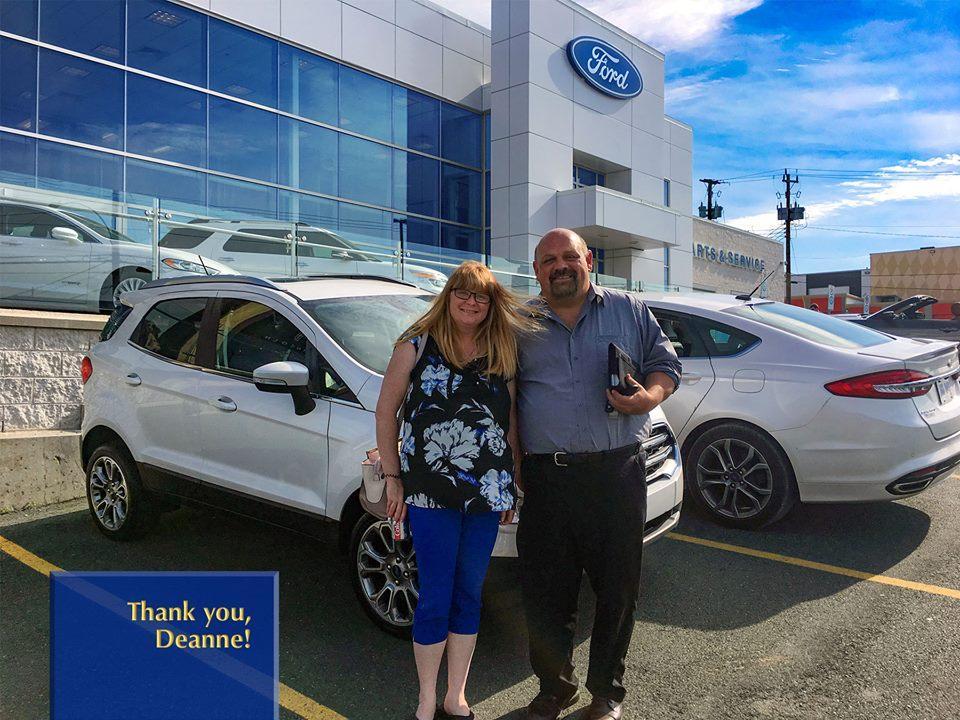 Turn heads with the new Ford EcoSport!
Everyone has been raving about the all-new Ford EcoSport, so it was no surprise Deanne Clarke found this one to be irresistible! Cabot's sales pro Scott Rogers took the time to make sure she was familiar with every new feature, and with the EcoSport there are many.
Thank you for joining the Cabot family, Deanne. You and your EcoSport have a lot of great driving waiting to happen!
---

Interested in test-driving one of our new Ford SUVs in St. John's, NL?
Drop by Cabot Ford Lincoln, your authorized Ford dealership on 177 Kenmount Road or call (709)722-6600, today!