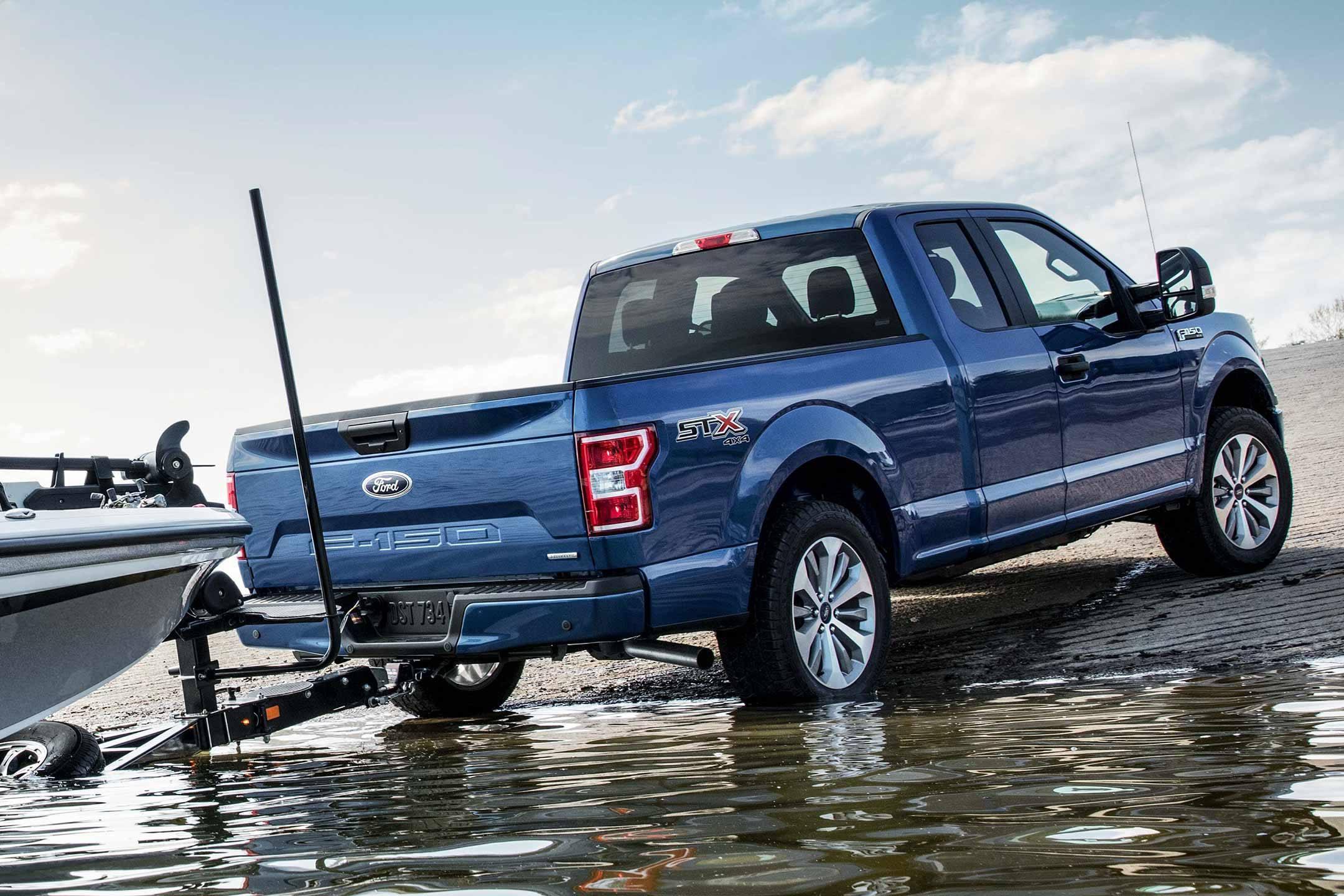 ---
What features make a truck easier to use?
Recent F-150 models have available heat-treated, high-strength, military-grade aluminum-alloy bodies and boxes. These trucks weigh 700 pounds less that previous steel-built trucks, meaning they are more fuel efficient and boast a greater power-to-weight ratio.
However, if you want a truck that truly delivers value, it should also deliver features that make your work or play easier. The Ford F-150 does exactly that. Whether you seek assistance to get into the truck bed, require support to organize various items, need to load and unload items with a ramp, or wish to line up your vehicle perfectly to hitch your trailer by yourself, the F-150 is here for you. The F-150's innovative transportation and storage features are easy to use and save you time without compromising safety or security. Read on for the details!
---
Got your hands full?

No need to worry! Did you know that the F-150 has an available remote tailgate release feature, that allows your truck to lock, unlock, and lower the tailgate with the click of a button? This is ideal for situations when you have limited capabilities with your arms and hands.
There are three ways to open the tailgate remotely. The first option requires pressing the tailgate release button on your key fob. If you are inside of the truck, press the lock and unlock buttons on the interior driver-side door, then hit the tailgate release button on your key fob twice. You can also enter your personal code into the truck's keypad to unlock the truck, then press the "5-6" button within five seconds, to proceed with opening the tailgate.
When you are done storing items in your F-150's truck bed, you can manually lift the tailgate to close it.
Truck storage and transport has never been more versatile.

Your F-150 can be equipped with a Boxlink feature, which offers versatility in securing cargo, while providing universal points for mounting attachments such as our available bed dividers and stowable loading ramps.
The available Boxlink includes factory-installed, reinforced mounting plates in every corner. You will have peace of mind in knowing that it locks in place, to further prevent possible theft.
The mounting plates attach quickly, making it easy to load and unload items like snowblowers, lawnmowers, and ATVs. Whether your items requires S-hooks or E-track hooks, our truck dividers can work with practically any situation, for your convenience.
Accessing your F-150's truck bed has never been easier.
For your convenience, the available integrated tailgate step and grab bar can be installed on your truck, and is easy to use.
With this feature in place, lower your truck's tailgate. When you press the step release button, the step will pop out, allowing you to pull it all the way down. Once it gently falls into a lower position, grab the yellow bar and pull it out until it's fully extended and locked into place. Then, pull the chrome interior bar all the way up until you hear a click. The bar can be used to pull yourself up into the truck bed.
When you're finished, simply fold up the step, press the yellow #1 button to guide the extender into the black bar, then press the yellow #2 button and fold it toward you, to push it back into the tailgate. Finally, lift the step up until it is horizontal, and push it back until you hear a click.
Connect a trailer to your truck with no spotter!
Ask a Cabot Ford Lincoln sales representative about the F-150's available dynamic hitch assist. This unique feature allows you to connect a trailer without a spotter, and without having to get out of your vehicle.
Following the black dotted lined on your rear view camera system, which can be seen on your 8" LCD touch screen, you can see the exact angle of your truck and trailer, as you back up.
And if you need more guidance, there is even a zoom button at the top corner of your LCD screen, allowing you to look closer at how well you are lined up. There is even a helpful LED light that shines onto your trailer hitch, making nighttime trailer hook-ups quick and easy.
With these kinds of truck bed features, storing and transporting items with your F-150 is quick, easy and reliable!
Cabot Ford Lincoln
Authorized Ford dealership in St. John's NL
177 Kenmount Road
(709) 722-6600