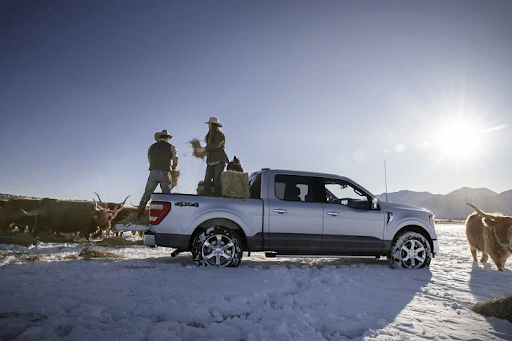 Our team at Cabot Ford understands the urge to fast-forward the workweek to get to the fun and relaxation the weekend brings! Who doesn't love Fridays?
The good news about the Ford F-150 is whether you've got a job to do or you're ready to hit the road for recreation, this truck is what you need! With capabilities that make work or play a lot easier, features that make a difference, and safety innovations that build your confidence, the Ford F-150 is a favorite!
Capabilities
The 2021 F-150 was redesigned from the ground up. In addition to the craftsmanship and premium materials you've come to expect from Ford, you'll notice innovations throughout the truck that make working smarter, not harder.
This truck transitions with ease from the demands of the job site or farm to the fun of exploration, off-roading, or hobbying the weekend can bring!
Selectable drive modes allow you control over a variety of rugged terrains and in less than favorable conditions. Select from Normal, Sport, Eco, Tow/Haul, Slippery, Trail, Deep Snow/Sand, Mud/Ruts, or even Rock Crawl with the FX4 Off-Road Package. You'll feel the difference in handling and performance no matter what situation you may find yourself in.
On the job or on the way to the lake, you've got Best-in-Class Towing of 14,000 pounds and Best-in-Class Payload of 3325 pounds. So hitch up the camper or the ATVs. Throw all your gear in the back - we've got what you need to get the job and the fun done!
Features
The Pro Power Onboard provides the best usable power on demand in its class. For work or play, this onboard generator makes things happen! Choose from one of three available outputs and be the life-saver at the job site or the hit of the tailgate party. Plug in to the available outlets in the cab and box, and then use your SYNC 4 screen or FordPass app to monitor wattage. With the Pro Power Onboard, you can run tools, fire up a welder, pump up an air mattress, or power the big-screen TV for the game.
Neither your job nor your fun are guaranteed to stop in the dark. So, light up your space! Selectable Zone Lighting allows you to light specific spots or the entire area surrounding your truck, including the bed. You can control all these lights remotely, so leave your flashlight in the cab.
Don't sign documents on your buddy's back again! Our Interior Work Surface can turn your cab into the remote office you've always needed. Stay organized and look professional with this pivoting work surface that's large enough for a laptop or a business lunch! This innovation may seem simple, but it will change how you think about getting your work done.
Extended Running Boards give you the accessibility you need for your cargo in the bed. Deployed when you need them and seamlessly tucked away otherwise, these running boards make climbing in the cab a breeze!
Safety
Our incredible suite of driver-assistive technologies is standard across all our Ford models. Ford's Co-Pilot360 Technologies truly change the way drivers think about driving. Knowing you have systems working to keep you safe helps bolster your instincts and increases your confidence when you need it most. Safety features include:
Blind Spot Information System. We let you know when a vehicle enters your blind spot by illuminating a small icon in the corresponding side-view mirror. Don't twist or turn and take your eyes off the road to look behind or beside your vehicle. We'll do all that for you.
Pre-Collision Assist with Automatic Emergency Braking. Traffic can be unpredictable, and that's why our sensors are monitoring the road ahead all the time. If traffic slows down or comes to an unexpected stop, we let you know immediately so that you can slow down, too. If you're unable to react quickly, we activate Emergency Braking and stop for you.
Auto High-Beam Headlamps. We want you to have the light you need when you need it. Our headlamps detect ambient light and dim and brighten your headlamps accordingly. You won't ever blind oncoming traffic again, and you'll always have the light you need to show you the way.
These are only a few of the many ways Ford works to keep you safe. Be sure to talk with your sales team member about the available features on your F-150. This is a conversation worth having!
About Us
Our team at Cabot Ford is excited to show you all the ways the Ford F-150 can make work and play rewarding! This truck is worth seeing with capabilities that get you where you need to go and back again, fun features, and safety innovations that save lives!
Come see us on Kenmount Road. Let's go for a test drive. We'll work together to put a set of keys in your hand. You won't regret it.