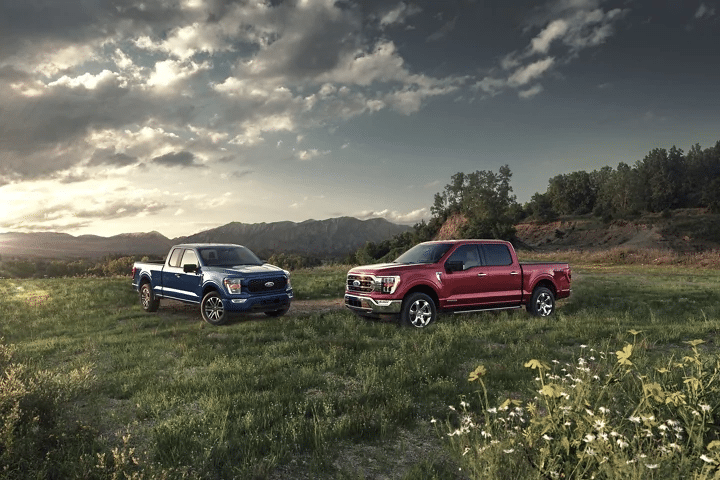 Our sales team at Cabot Ford on Kenmount Road isn't kidding when we say the Ford F-150 truck series is built tough. We know you work hard. This truck helps you work smarter. These trucks will take you where you need to go and get the job done when you get there. Take a look at these versatile interiors, capable engines, and safety features that save lives every day.
Interior
We spend lots of time on the road. Responsibilities between job and family keep most of us busy. When working on the family farm, at the construction site, or even in an office downtown, you need a reliable vehicle to get the job done.
Featuring new materials and innovative new technology like SYNC 4, an available 12-inch touchscreen, and an available interior work surface that folds out of the large console. This workspace is large enough for a 15-inch laptop to sign important documents or share lunch with a colleague.
The SYNC 4 features enhanced voice recognition, and the 12-inch touchscreen puts all your most important contacts, playlists, podcasts, and navigational tools at your fingertips. Multi-tasking has never been easier.
When you can take a break, we want you to nap in style! Max Recline Seats fold almost entirely flat to suit your comfort level.
Ford redesigned the rear passenger area to provide extra security for your most essential valuables to be under lock and key. Now, that's available with lockable under-seat storage.
There is a reason this series has been a bestseller for the last 43 years. Best-in-Class available towing and payload means you don't have to wonder if you'll be able to get everything done. There are six models and six engines to choose from - including a hybrid V6. Choose any one of these models to suit your unique situation.
If you need some extra maneuvering capability, the FX4 Off-Road Package includes an electronic-locking rear differential, Hill Descent Control, shock absorbers, and skid plates. Plus, the 360° Camera with Split-View Display allows you to see everything all the way around - especially when you need it.
If you're looking for power, you've come to the right place. Not only will one of our six available engines pull, push, and power its way through whatever situation is required of it, but when your truck is turned off, you can jump-start your job site with the Pro Power Onboard. By turning your truck into a generator, you have enough power to weld, saw, or sand on demand.
Safety Features
Your safety is our number-one priority. With high-tech safety features that give you the confidence you need behind the wheel, you've never been safer than you are now. Ask one of our sales team members which of these safety features are standard and which can be added to the package you choose:
Blind Spot Information System. If a vehicle enters your blind spot, our sensors will detect it and notify you of its presence with a light in the corresponding side-view mirror. It's that simple and that smart.
Lane-Keeping System. If our sensors notice that you've left your detected lane, it alerts you to maneuvers to right yourself. If you don't, our system gently maintains your lane. If you leave your lane multiple times, then sensors alert you to stretch your legs and take a break.
Pre-Collision Assist with Automatic Emergency Braking. If our sensors detect you're traveling at a speed rate that's too fast for the traffic ahead of you, we alert you to slow down. If you don't slow down and a crash is imminent, our system activates Automatic Emergency Braking to mitigate or avoid a frontal collision altogether.
Auto Beam Headlamps. You may not think about headlamps as a safety feature, but that's because you've never seen these. Engineered to detect light levels, these high beams turn on or dim automatically when the situation warrants it. You will have optimal lighting whether you're driving down a dark country road or a busy highway. You also don't have to worry about dimming lights as a courtesy; sensors do that, too.
About Us
At Cabot Ford, we've been serving our friends and neighbors in St. John's long enough to know what you expect from our dealership and our top-quality vehicles. We work hard to exceed your expectations.
The F-150 series has been a favorite for years, and it's easy to see why. These trucks have built a reputation for their capability, reliability, and safety. If you've got a job to do, this is the truck you need.
With innovative redesigns for 2021, the Ford F-150s continue to level-up and surprise even the most diehard fans. Contact us TODAY to see for yourself why we say Built Ford Tough. We know you will be delighted by what you find.