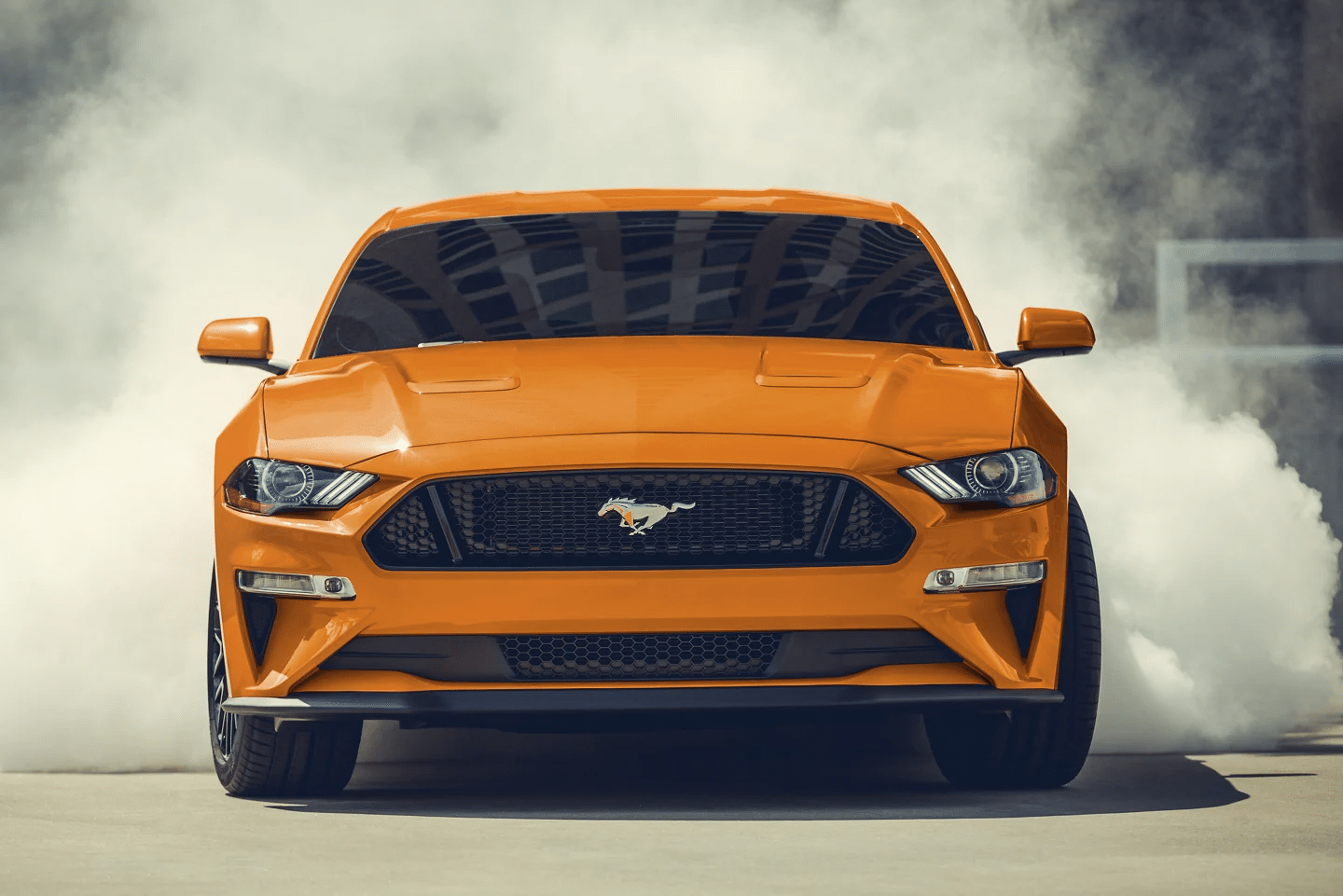 It's almost summertime. Can you feel the wind in your hair? Don't you love the way the sunshine bathes your face in light? The summer night sky never looked as sweet as it does when you're looking up from the seat of your Ford Mustang convertible.
Our team at Cabot Ford knows that if you want all the trappings of a high-quality summer, the Ford Mustang should be a part. With capabilities that excite, technology features that amaze, and safety innovations that inspire confidence on the road, get your summer started with a Mustang convertible.
Capabilities
Summertime is the best time for long, meandering drives that relax and rejuvenate you. Pick a destination and let the Ford Mustang convertible take you there.
If you want speed, we deliver. Put the pedal to the metal and get going. With an engine capable of going a quarter-mile in 11 seconds, you'll wait for nothing. Let's go!
Our Mustang GT delivers port fuel direct injection, 460 horsepower, and 420 pounds-feet of torque. That means you've got all the power you want - right in the palm of your hands. You'll always be first off the light in this powerhouse.
As one of the most responsive vehicles on the road today, the Ford Mustang provides amazing performance with independent steering. Select from three highly-tuned power-assist settings that offer the type of steering you need for everyday situations. Choose from:
Comfort. Least amount of steering effort. The best mode for normal, everyday driving.

Normal. Choose this setting to maintain steering ease, but engage a little, too. Perfect for when you want the best of both worlds.
Sport. Sport requires the most steering effort but produces an immediate connection with the road. For fun-lovers only.
The toggle switch conveniently located on the center stack allows you to adjust handling and responsiveness. Choose from Normal, Slippery, Sport, Track, and Drag Strip to suit your environment and the elements.
The driver's favorite MagneRide Damping System is adaptive and responsive to your driving style. Using magnetically controlled dampers or shock absorbers, you'll feel connected to the road and your car for a smooth drive.
Features
Settle into the cockpit and enjoy the experience. You'll feel an immediate connection with the Mustang. Comfortable heated and cooled seats, an accent-stitched console, and a heated steering wheel provide the luxuries you're looking for and the quality you deserve.
Stay connected with SYNC 3, no matter where your journey takes you. SYNC 3 makes smartphone connectivity a breeze. Access your contacts, playlists, and navigation systems with a touch of a button.
Every memorable drive has a good soundtrack. Turn it up with the available B&O Sound System by Bang & Olufsen. This sound system never fails with its 12 powerful speakers, including tweeters, woofers, and an in-trunk subwoofer. Plug in that playlist. Get ready to rock. You'll feel your favorite beats in your bones - and that's a good thing.
Ford and Waze provide one of the most useful navigational tools available. Get up-to-the-minute traffic information, detour information, and accident reports so you can determine the best path for your destination in a hurry. This crowd-sourced app is already a favorite. Access the app and get moving. Waze will get you there.
Seven performance packages bring your dreams of speed and adrenaline rush to reality. Talk through all your options with one of our sales team members to ensure you're matched with the Mustang that suits you best.
Want to know your performance statistics? TrackApps add to your driving experience by displaying the performance metrics you need to know on the instrument panel.
Safety
Your safety is our priority. Innovative safety features provide the confidence you need to take the road by storm. With many of our safety features standard across our models, it's a good idea to have our sales team members walk you through the features available on the model in which you're most interested.
Safety features include:
Blind Spot Information. When traffic enters your blind spot, we alert you with a light in your corresponding side-view mirror. You don't have to take your eyes off the road ahead. It's simple but so smart.
Lane-Keeping System. Once you activate this system, our sensors monitor your detectable lane of traffic. Should you veer from your lane, we gently remind you to refocus on the road ahead. If you're unable to maneuver your vehicle to the center of your lane, we do it for you.
Pre-Collision Assist with Automatic Emergency Braking. Sensors and cameras never stop scanning the road ahead. If traffic ahead of you slows down, we alert you to adjust your speed accordingly. If you can't react quickly enough, we activate Emergency Braking Systems for you to mitigate possible damage.
These are only a small example of the features available to you on your Mustang. Our highest priority is to get you where you want to go - and back again - safely.
About Us
At Cabot Ford on Kenmount Road, our team understands that our friends and neighbors depend on us for top-quality vehicles and service. We work hard every day to exceed your expectations.
Come test drive the Mustang convertible. Once you feel the wind in your hair and a warm breeze, you'll never want the top up again. We promise!