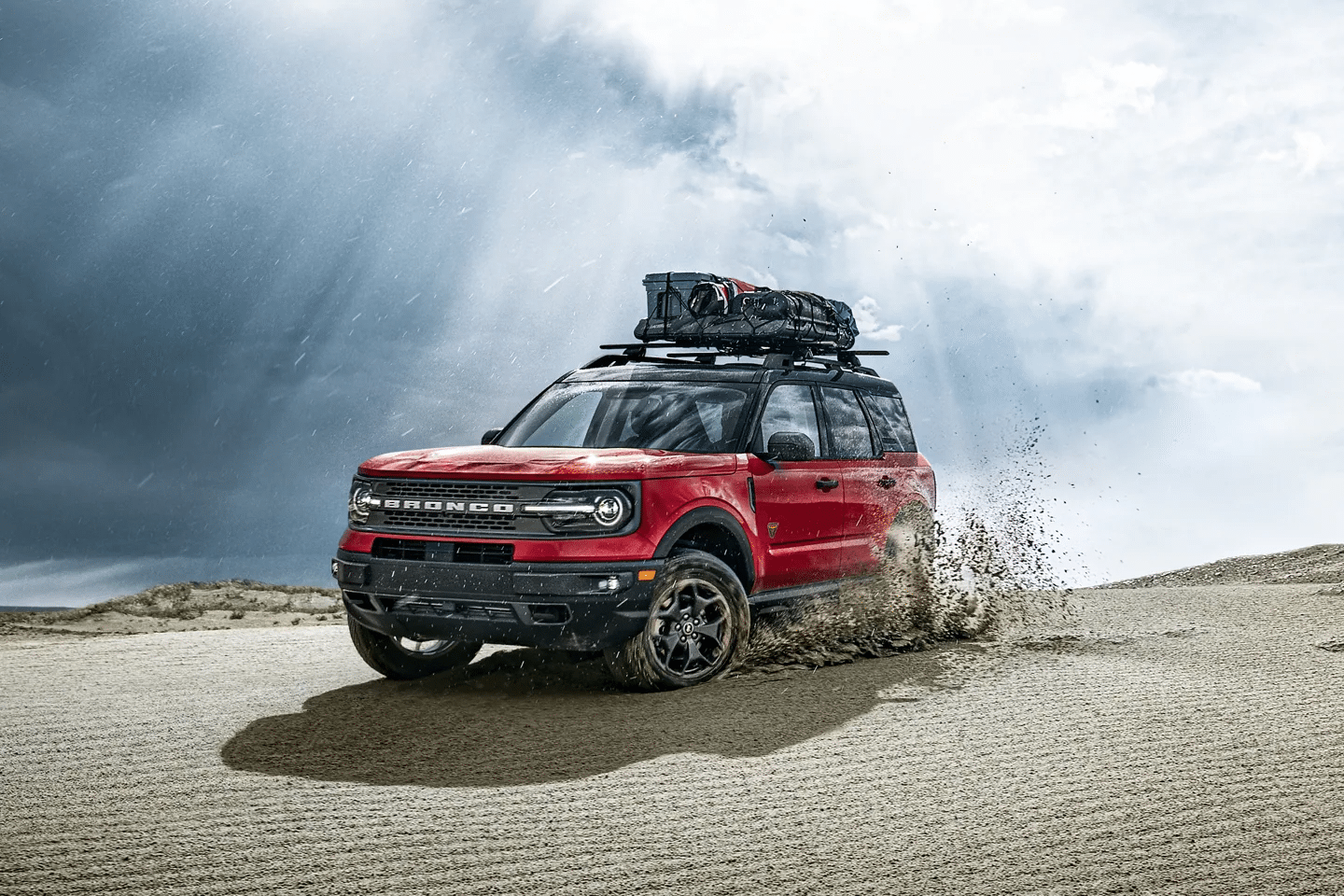 If you like adventuring, heading outdoors, hitting the open trail, taking those roads that are clearly less traveled, then the Bronco Sport is right up your alley. Redesigned with you in mind, the Bronco Sport is based on the icon but engineered for today's adventurer.
Our models are tailored to your specific activities, so our team at Cabot Ford wants to ensure you're matched with the model that fits you best. Talk with us about the capability and versatility you need for the activities you love most. There is a perfect Bronco Sport for you!
Characteristics in Common
Whether you're into rock climbing, mud bogging, or just enjoy blazing a trail into the unknown, all Bronco Sport models feature the following features, specifically designed for the thrill-seeker.
Roomy. The safari-style roof provides the extra space you need for things like bikes, which can fit inside without you taking them apart. The standard steel roof can hold up to 150 pounds - which gives you lots of versatile camping options.
Rugged. 4x4 capability and sturdy, protective underpinnings allow for adventuring through the wildest places. Travel with confidence and enjoy the drive. We've got you covered - literally. Consider the available all-terrain tires to give you the extra edge you need.
Rough. We take you wherever you want to go. Our Terrain Management system with G.O.A.T. (Goes Over Any type of Terrain) Modes means you can maneuver with skill and without fear. Five standard modes: Sand, Slippery, Eco, Sport, and Normal, are what most find helpful. The Badlands model comes standard with two extra modes for the super-trekker: Mud/Ruts and Rock Crawl.
The High-Performance Off-Road Stability Suspension System, aptly abbreviated the H.O.S.S., lives up to its name. Uniquely tuned front struts with hydraulic rebound stops give you a less jarring, more comfortable, and quieter off-road experience. Softer springs and anti-roll bars also provide greater articulation over obstacles.
Choices, Choices, Choices
Big Bend. Perfect for the camper, hiker, and biker, the Big Bend model comes standard with features that accommodate your outdoor preferences. Some of the features you'll appreciate most are easy-to-clean upholstery and rubberized seatbacks and floors. Don't worry about putting down a towel for your wet dog or your muddy buddy. We figure adventuring is a messy business, and we planned ahead!
Leave for the trail unencumbered by extras! Keyless-Entry Keypad lets you leave your keys in the vehicle while you swim in the lake or climb those trees. Entry is guaranteed when you return by entering your code. No keys required.
Creative storage solutions abound in the Big Bend. Take what you want for the journey ahead. Leave nothing behind.
Badlands. Badlands is the pinnacle of the Bronco Sport's capability. If your travels include off-roading, water fording, or rock climbing, this is the model for you. Bash plates, off-road tires, and rugged capability are all a part of this machine. The sky's the limit with this model.
Boasting 8.8 inches of ground clearance and 23 inches of water fording capability, you can go over the river and through the woods any time you want to! Take the long way home and explore the wilds. Easily trek into the valleys and up the mountains. You've got all the tools you need to get anywhere you want to go right at your fingertips!
Safety
No matter where you go, Ford Bronco makes your safety a priority. With Ford Co-Pilot360 Technologies onboard, you're surrounded by innovative safety features. This suite of safety features is standard for most Ford models; however, ask one of our team members to walk you through the features of the model you're most interested in. Some of those safety features include:
Blind Spot Information System. When a vehicle enters your blind spot, we alert you by illuminating a light in your corresponding side-view mirror. It's simple but keeps your eyes on the road ahead, where they most belong.
Lane-Keeping System. If you leave your detected lane, we alert you to realign your vehicle in your lane and refocus on the road ahead. If you are unable to do so, our system will gently guide you back into your detected lane.
Auto High-Beam Headlamps. Our sensors detect ambient light and automatically adjust your high and low beams to suit appropriate light levels. It doesn't sound complicated, but it provides you with one less thing you have to think about while you're out in the world.
About Us
Our team at Cabot Ford on Kenmount Road knows how important it is to have the right tools to accomplish your goals. We work hard to provide our friends and neighbors with top-quality vehicles and services.
Come talk with us about your favorite outdoor activities, the cargo you want to take along, the folks who like to accompany you, and the roads you most like to travel. We can match you to the model Bronco Sport that fits your lifestyle best. Start your adventure with us - TODAY!