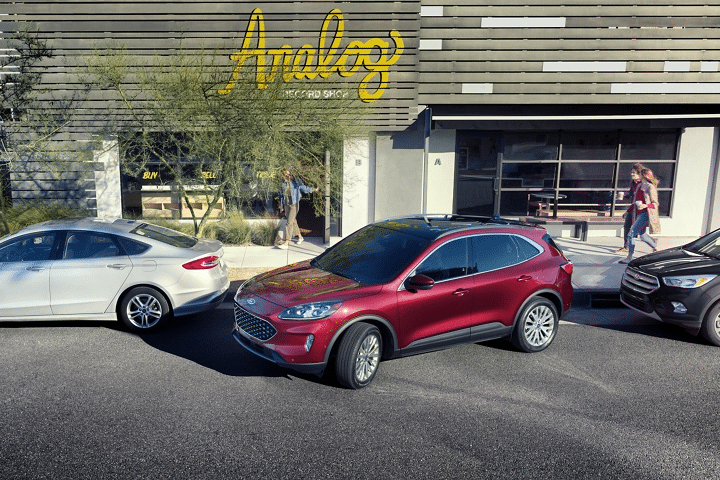 Ford Co-Pilot360 is Ford's suite of safety features. Every time you get on the road, an accident can happen. With Ford Co-Pilot360, the risk of an accident is reduced.
Cabot Ford Lincoln is proud to help the community of St. John's drive safer. New Ford vehicles come with select Co-Pilot360 features, helping you and others stay safe. Our team is ready to answer your questions and find a vehicle that gives you what you need.
Co-Pilot360's features range from emergency braking assistance to full coverage cameras. Ford is there to help you.
Blind Spot Information System (BLIS) with Cross-Traffic Alert
The Blind Spot Information System uses sensors to detect any vehicles you do not see. As you begin to change lanes, an icon will light up in the corresponding side mirror to let you know it is unsafe.
The Cross-Traffic Alert does the same when you are backing up. If a bicyclist or pedestrian enters your pathway, your vehicle will let you know.
Changing lanes at high speeds can be intimidating, but the Blind Spot Information System gives you peace of mind.
BLIS with Trailer Coverage
When you are towing a boat or trailer, you can still change lanes with confidence, knowing your vehicle is also keeping an eye on your trailer.
Pro Trailer Backup Assist
Reversing with a trailer attached is challenging even for the most seasoned driver. With the turn of a knob, you can let your vehicle know which way to go.
Lane-Keeping System
After a long day at work or while on a cross-country adventure, it can be easy for your eyes to drift closed. Or if the kids in the back seat are screaming, your attention switches to them. There are many things that can lead to your vehicle drifting towards another lane.
Lane-Keep continuously scans your position between the lines and will alert you if you start to deviate from the center. If the alert is triggered multiple times, a coffee cup icon will let you know it is time to get off the road.
Pre-Collision Assist with Automatic Emergency Braking
Even if you are the most attentive driver, unexpected things can happen. Cats run across the road, people blindly step off the curb, and children chase balls into the street.
Pre-Collision Assist detects these potential collisions and alerts you. If you do not react to the warning in time, automatic emergency braking will engage.
Intelligent Adaptive Cruise Control
Cruise control has been around for a while, but advances in technology now let it recognize speed signs and adapt to changes in traffic flow. Turn it on, set your speed, and relax a little.
Evasive Steering Assist
If a vehicle ahead of you breaks down or is driving too slowly, your vehicle can support your maneuvering. You are still in control, but your vehicle gives you a little extra steering power to get around it.
Reverse Brake Assist
When you are backing out of the driveway or a grocery store parking lot, it can be hard to know if all is clear. Should a vehicle enter your pathway, the reverse brake assist will prevent you from colliding with it.
Rearview Camera
Turning around when you reverse can be tough on your neck and spine. The rearview camera lets you see what is behind you on the front console display. The camera provides a wide view range so you can back up safely.
Active Park Assist 2.0
Parking can be a nightmare, especially in a tight parallel spot. Even if you are skilled at parking, it can be nice to sit back and let your car do all the work.
With Active Park Assist 2.0, your vehicle can detect a parallel or perpendicular spot and slide its way right in. Press the button to turn it on, take your hands off the wheel, and let your vehicle do the rest
Auto High-Beam Headlamps
Sensors on your vehicle note light conditions and will take care of turning the lights on and off. Your vehicle's lights will even be dimmed when your vehicle senses oncoming traffic.
Hill Descent Control
If you are driving a larger vehicle or hauling a trailer, Hill Descent Control gives you a little extra control. Set the speed you want, and your vehicle will make sure you do not go over it.
Let Co-Pilot360 Assist You
Each Ford vehicle comes with certain Co-Pilot360 features. If you are looking for a family vehicle, the 2020 Expedition is a great option. If you have your eyes set on something that can handle rugged adventures, the 2020 Ranger is the way to go.
Take a look at our inventory online, then contact us here at Cabot Ford Lincoln. Our sales team is ready to let you know which Co-Pilot360 features your dream model has.