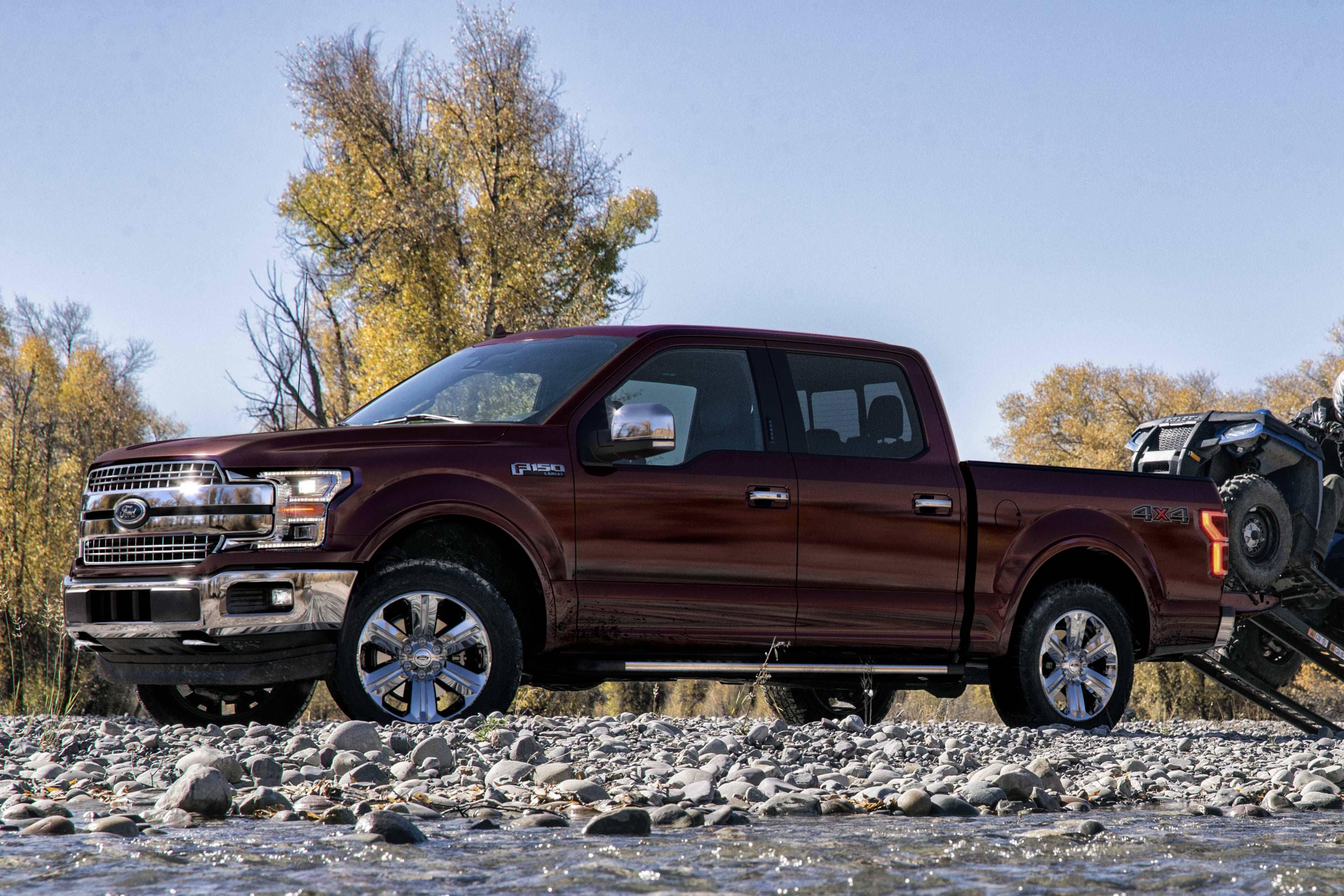 Have you seen the 2018 Ford F-150s in St. John's, NL yet? They certainly stand out from the crowd! Highlighted in our in-depth tour video, you'll be in awe of the F-150's beautiful leather interior, power tailgate, and a reliable reverse sensing system... then there are the heated front and rear seats and blind spot monitoring that are standard on the 502A package.
But this one gets even more impressive. We stepped up to the 3.5L EcoBoost engine and added options like LT tires, power running boards, hard folding tonneau cover, retractable tailgate step, wheel well liners, and more than we can even name here. Overall, this is one truly remarkable truck.
And the newest F-150 truck owner in St. John's is...
Ernest Rideout. He takes his trucks seriously. And why not? For work or just hitting the road, quality matters. So when he was ready for a new ride recently, he turned to the man who really knows what trucks are best for Newfoundland and Labrador living, Cabot's Scott Rogers. Scott listened carefully to what Ernest wanted, and soon presented him with this new 2018 F-150 Lariat.
The F-150s have something for everyone. The Lariat's Chrome Appearance package is absolutely stunning! The available 8" screen shows all your vehicle info in one amazing display, and things get even more cool with the available Ambient Lighting in Ice Blue. Fold up the SuperCrew's or SuperCab's rear seats, to get extra storage room on a flat floor, and the available Tailgate Step with Tailgate Lift Assist makes your workday even easier to tackle. Thank you for joining the Cabot family and for visiting our St. John's Ford dealership, Ernest. We appreciate your business, and are working hard for you!
Two more happy F-150 Truck Customers in St. John's.


Terry and Andrea Ryan appreciate the good things in life, and they were ready to find one truly great truck. They made their first trip to Cabot Ford in St. John's and met sale pro Saad Rajput, who dug into helping them find that truck. After considering all the possibilities, Ryan and Andrea fell in love with this new 2018 Ford F-150 XLT.
The Twin-Panel Moonroof on the SuperCrew brings all the outdoors along for every ride. The SuperCrew also has a truckload of room, to seat six with room to spare! The rear seatbacks in the SuperCab or SuperCrew fold up for a flat floor for cargo, and the available Ice Blue ambient lighting makes your drive even more cool. Plus, the interior of the 2019 King Ranch feels more like a luxury car than a truck! Thank you for joining the Cabot family, Terry and Andrea. We are working hard to keep you coming back!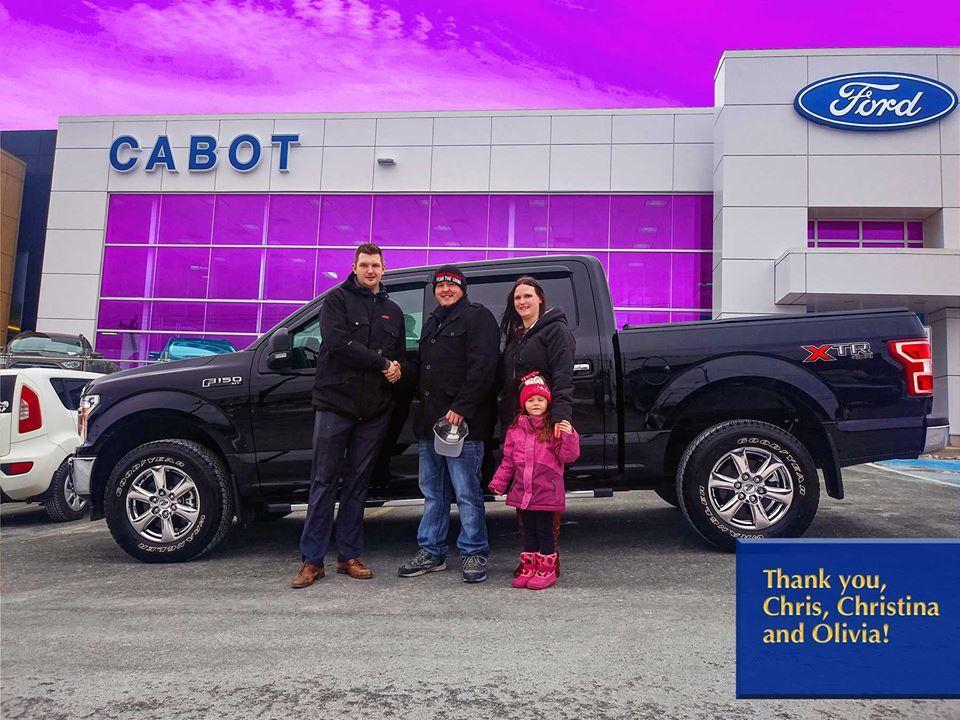 Our Cabot Family in St. John's is growing everyday!


YESSSS!!!! Cabot's kindly sales pro Ryan Noftall had the pleasure of welcoming yet another group of smiling faces into Cabot's growing family recently! Chris and Christina Gosse were in with their daughter Olivia to pick up this sparkling new 2018 Ford F-150 XTR.
We are seeing more and more families at Cabot, and we are working harder and harder to make sure every one of them drives away delighted with the genuine smiles and caring sales and service experiences they find here. So thank you, Chris, Christina, and Olivia, for bringing your own smiles and joining the Cabot family. You colour our world!
Another happy family drives away with their new F-150 in St. John's, NL.


The day was ending but a whole new one was just beginning for Matthew, Candice, and Finn when the Warford family recently joined the Cabot family! Our sales ace Jerry James welcomed them into the fold with this 2018 Ford F-150 XLT with the 302A package. That is one absolutely incredible truck for one truly amazing family!
Thank you for joining us, Matthew, Candice, and Finn. You make us better but hey, we'll all keep working hard to be even better yet for you!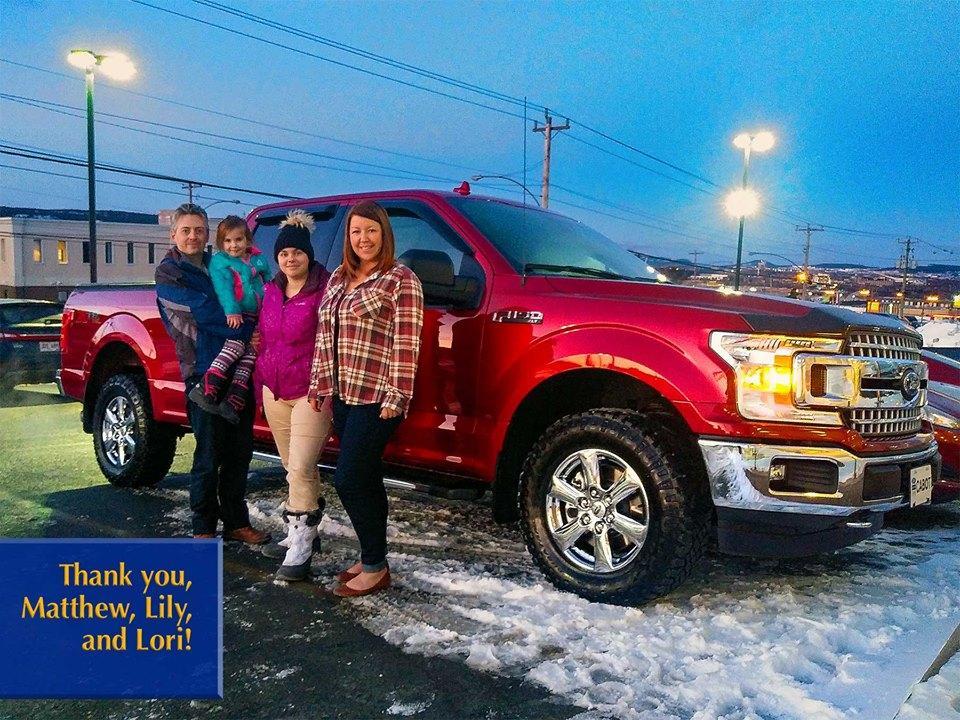 The Drovers found their dream Ford truck and drov'er away.
When Matthew and Lori Drover needed a new truck, they knew that above all else it would need to be reliable and trustworthy. Hey, when you're carrying family like little Lily or her littler brother, you need peace of mind. But you also want style, comfort, and power in a truck, and as Cabot's newest sales pro Terrilynn Bailey showed them, this 2018 F-150 XLT delivers all of that. It is one amazing truck perfectly designed for one awesome family!
So thank you for bringing your family to the Cabot family, Matthew and Lori. We look forward to all being together for many, many happy miles to come!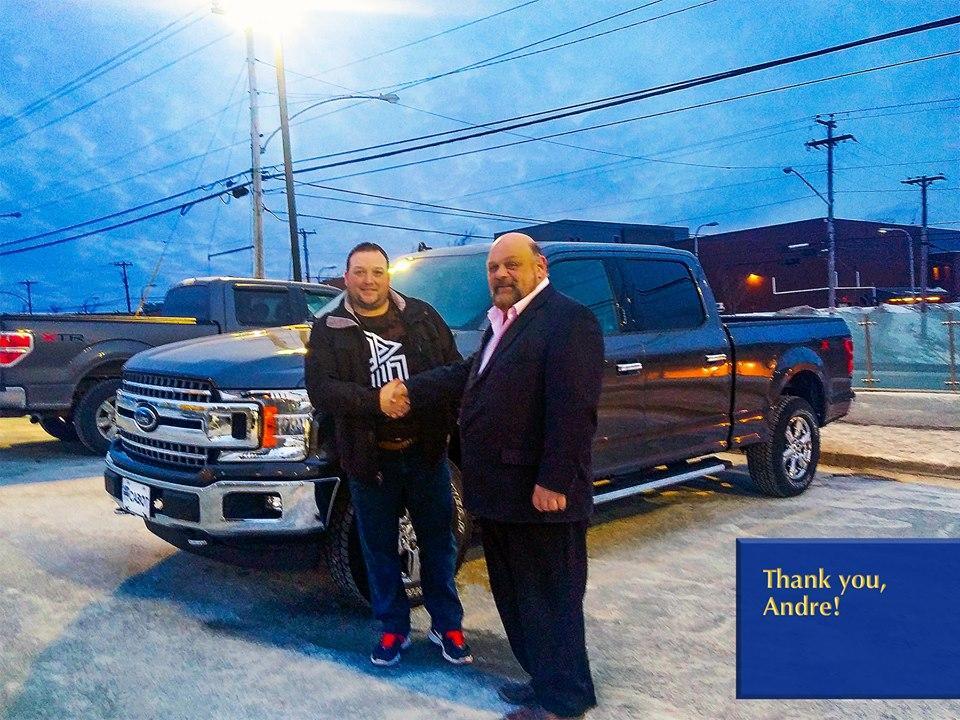 A reunion with one of our Cabot Family members!
Andre Lushman just paid Cabot sales ace Scott Rogers the greatest compliment possible. Yes, he said Scott was excellent to deal with and a hard worker. He even said Scott has a great sense of humour and always gets him a great deal. But none of those were the greatest compliment he gave. Andre's ultimate toast to Scott was that he came back to Cabot and trusted him to get the best new truck at the very best price. And Scott came through yet again, with this 2018 F-150 XTR!
So thank you, Andre, for seeing the value of being in the Cabot family that we keep working so hard to grow. And thank you to all our repeat customers who keep coming back again and again. We appreciate you, and we will keep working hard to make sure you know it!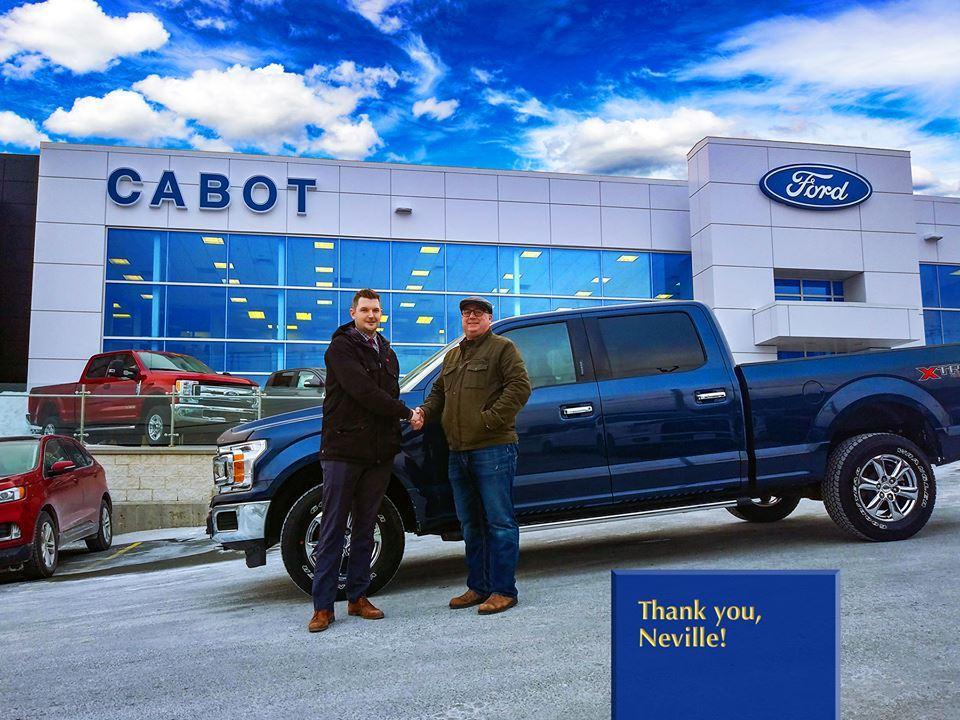 Welcome to the Cabot Family "Super Crew", Neville!
Cabot's sales pro Ryan Noftall was delighted to welcome yet ANOTHER new customer to Cabot recently! Neville Kean turned to Cabot for this new 2018 F-150 Super Crew. That's one exceptional truck with, well, a truckload of room!
Thank you for joining the Cabot family, Neville. You have an awesome new truck, and we have one more incredible new customer. Our family continues to grow, and so does our level of care and commitment to each of you. Hey, you really are a Super Crew!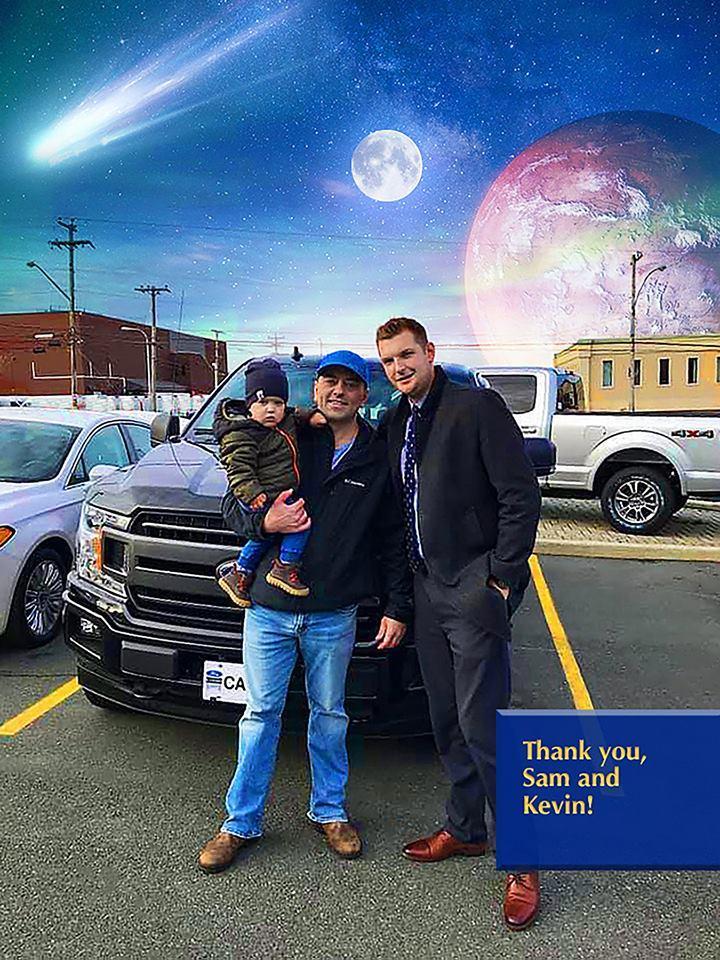 A customer experience that was out of this world!
Remember when you were little and the whole universe was a magical place waiting to be discovered? Sam doesn't need to remember; he's still on that adventure! And when he wanted a new truck he talked to his dad and best buddy, Kevin Hammond, about heading to Cabot and having a chat with our magic-maker, Ryan Noftall.
Ryan listened to what Sam needed, checked with Dad just to be sure, and in no time at all they were whisked into their new spaceship... or a 2018 Ford F-150 with the Sport package, as the rest of us would call it.
Thanks for touching down at Cabot, Sam and Kevin. Happy adventures! And for the rest of you wishing you could bring back the magic, come talk to Cabot. We can help make it happen!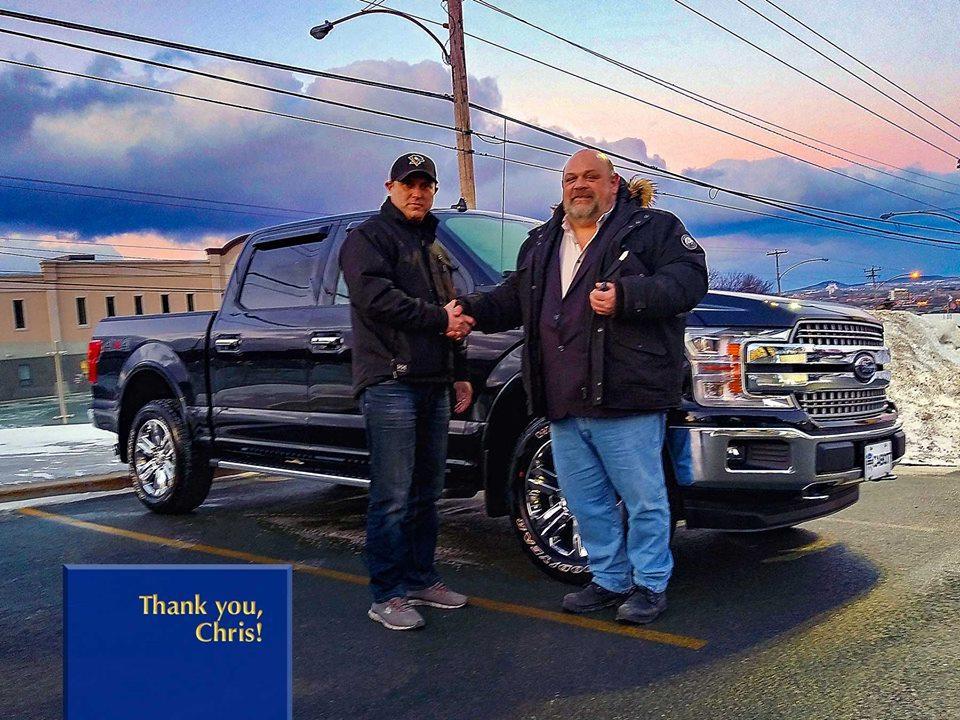 Another day, another Ford F-150 on the streets of St. John's.
CONGRATULATIONS to Chris King, yet ANOTHER new customer to Cabot Ford Lincoln! Chris recently picked up this astonishing new 2018 F-150 Lariat from Cabot's sales veteran Scott Rogers. The Lariat wraps you in more comfort and style than you ever imagined you'd find in a truck, yet has the power and reliability to handle pretty much any work you can throw at it!
Thank you for joining the Cabot family, Chris. We are thrilled to have you with us, and we'll keep working hard to keep you as thrilled as we are!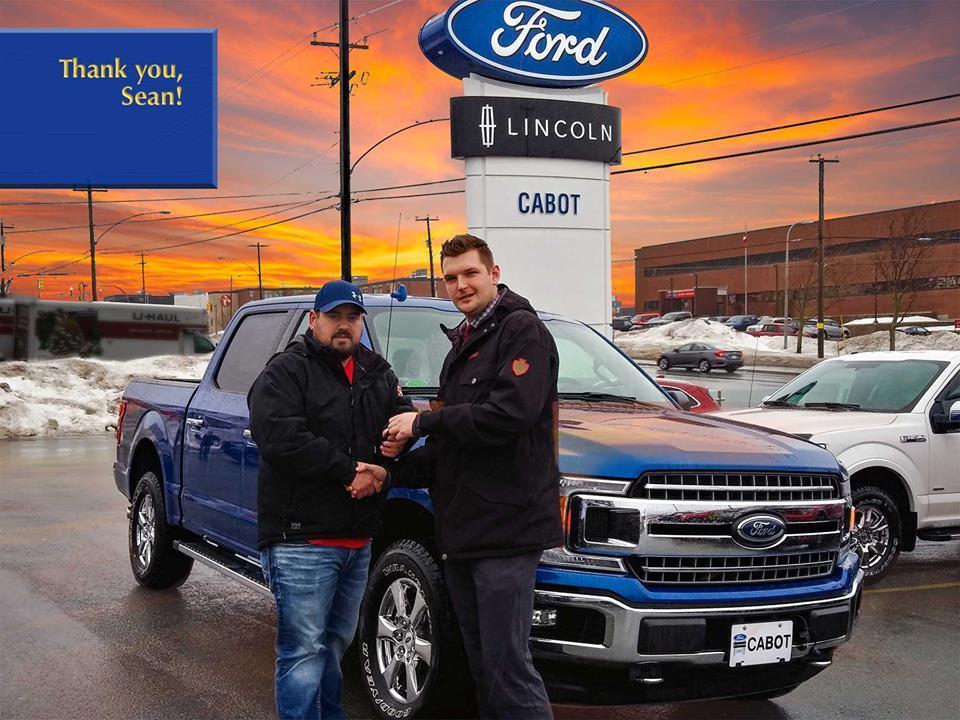 Big brother knows best.
Sean Hammond is the second member of his family to buy a truck from Cabot Ford Lincoln within a month, following in the tire treads of his older brother, Kevin! Sean has great taste and worked with Cabot's sales consultant Ryan Noftall to pick out this incredible new Lightning Blue 2018 F-150 XLT with the XTR package!
Thank you for joining the Cabot family, Sean, and thank you as well, Kevin! Hey, we're a brand of brothers!

Interested in test-driving one of our new Ford F-150s in St. John's, NL? Drop by your authorized Ford dealership on 177 Kenmount Road, today!