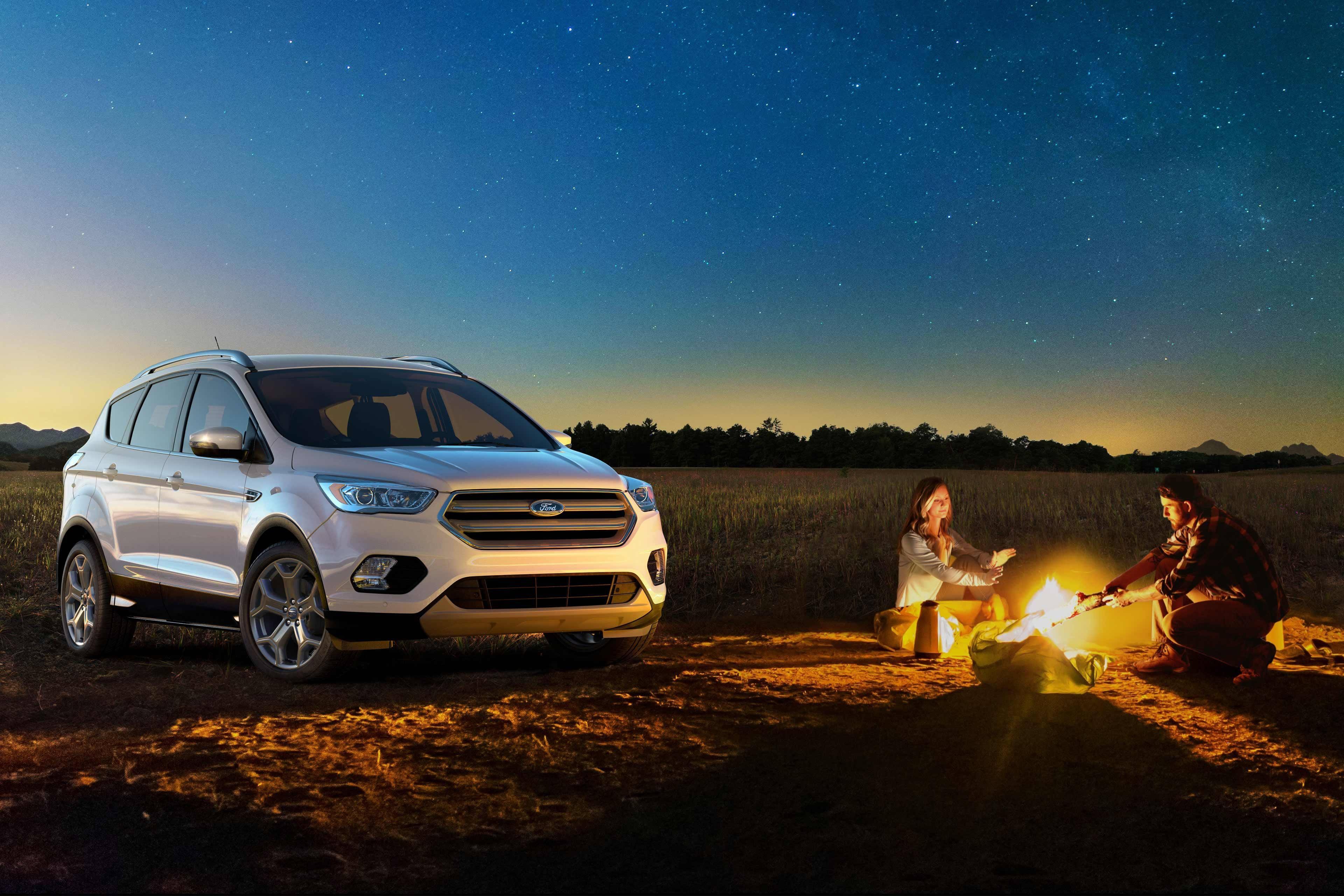 The Ford Escape lets you go green, no matter what colour you choose! Eco-friendly features like the EcoBoost engine and Active Grille Shutters help make the vehicle more fuel-efficient. Then there's the seat foam partially derived from soy beans, and carpets made from a blend of post-industrial polyester fibres and post-consumer fibres derived from recycled plastic bottles. And that's just the start.
Drop by your authorized Ford dealership at 177 Kenmount Road to test drive this SUV in St. John's today! If you can't make it in just yet, take a virtual test drive with Jerry James, to the right.
The owner of Ace Driving School knows which vehicle to trust!
Allan Evans is the proud owner of Ace Driving School in beautiful Clarenville. When he needed a new SUV, he knew he could count on his brother, Cabot's own ace for fleet sales, Ralph Evans! Allan relies on his vehicles to keep his business moving, so this 2018 Escape Titanium was the perfect choice.
The Escape is known for its incredible comfort and handling, and has amazing features and options. SYNC 3 with 8" touchscreen and voice command, now features FordPass Connect and Wifi Hotspot! The available Panoramic Vista Roof has a large panel that opens and a fixed rear skylight, and the second-row seats fold down to give amazing amounts of cargo space!
Thank you for truly being in the Cabot family, Allan. We work hard to keep you and all our family smiling!
When it looks this good, it's hard to not spot the Ford Edge SUVS around St. John's!
When Jason Hussey was looking for a new SUV, he knew he wanted comfort, style, and steady handling in any weather conditions. He could have chosen any SUV at any dealer, but he chose to trust Cabot's sales pro Scott Rogers, and Scott delivered with this 2018 Ford Escape SE!
That's one awesome SUV, and Jason, you're one awesome addition to the amazing Cabot family. We are thrilled to have you with us, Jason!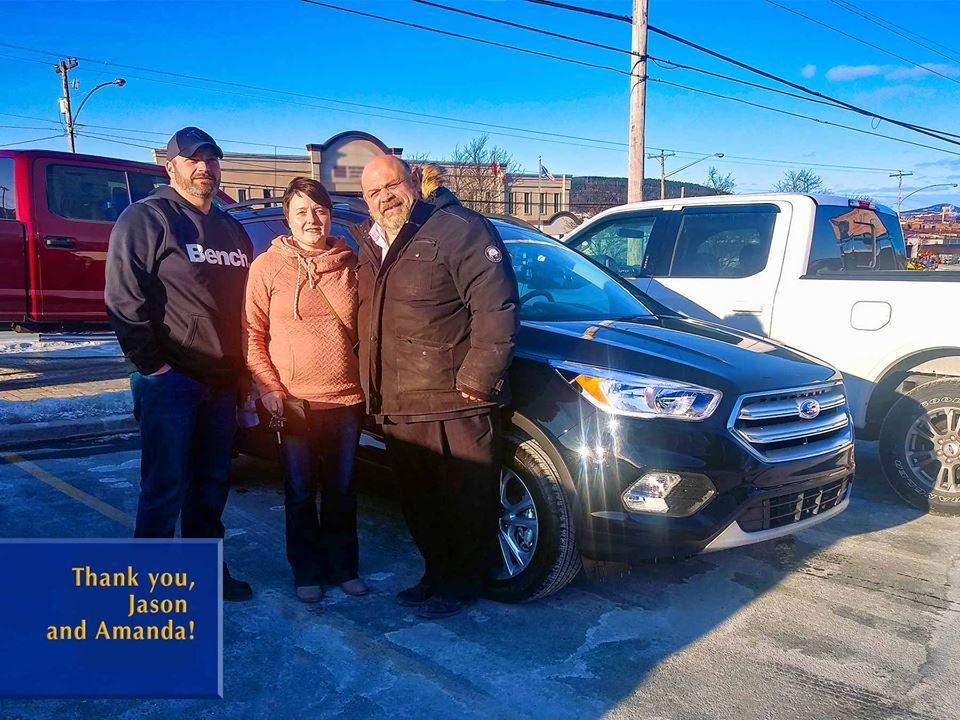 Which is brighter, the gleam of the 2018 Ford Escape or our customer's smiles?
Everyone and everything were gleaming recently, when repeat Cabot customers Jason and Amanda Cole picked up their new 2018 Ford Escape SE from Cabot sales ace Scott Rogers! And how could they not be? The trust and warmth of moments like this, and our ongoing commitment to service and customer care are values we hold dear.
So thank you for being wonderful members of the Cabot family, Jason and Amanda. We are working hard to make sure things only look brighter from here!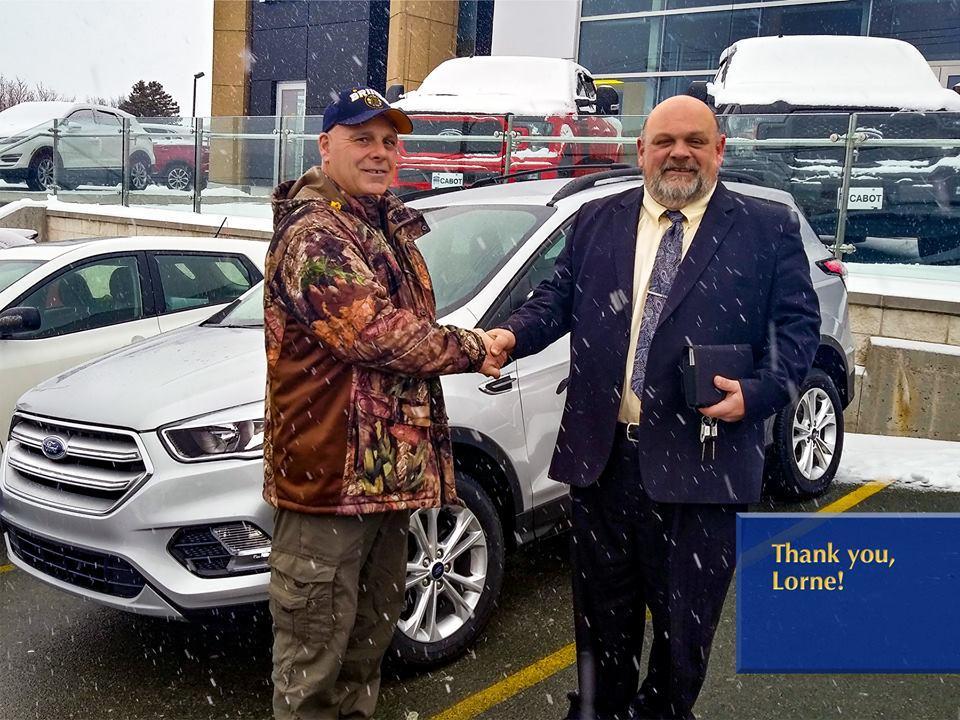 Handle all weather conditions with confidence in St. John's, with the 2018 Ford Escape.
People love the Escape! Amazing road handling in all weather conditions. Comfort. Style. Reliability. We could go on and on, but we think the real love of the Escape is best found in the many smiles of those who buy and drive them! Lorne Thorne is one of the latest to pick up a new 2018 Escape, shaking hands here with our sales ace Scott Rogers.
Thank you, Lorne, for joining the Cabot family, and also joining the many Escape owners who are loving their ride! For the rest of you, take a closer look at the Escape by calling 722-6600 or dropping in to Cabot at 177 Kenmount Road. We've got an Escape for you!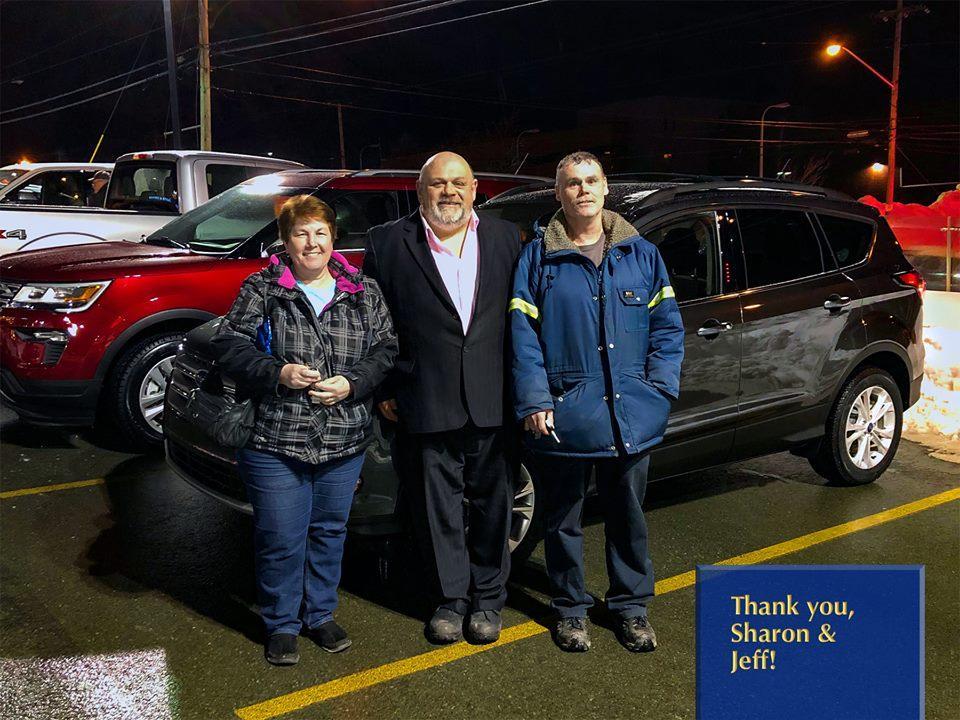 Feel confident, comfortable and cool as you drive your new 2018 Ford Escape.
Sharon and Jeff Fagan were ready for an Escape, and Cabot's sales expert Scott Rogers knew the 2018 Ford Escape was exactly what they were looking for. Incredible comfrot, smooth ride, phenomenal handling in any road conditions... actually, it's the Escape we've all been looking for!
Thank you for being in the Cabot family, Sharon and Jeff. We are thrilled to have you with us and are working hard to make sure you're pretty excited about that too!

Interested in test-driving one of our new Ford SUVs in St. John's, NL? Drop by your authorized Ford dealership on 177 Kenmount Road, today!